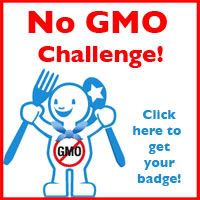 Today I'm joining in on Real Food Media's No GMO Challenge!

Genetically Modified Organisms
And they are rapidly becoming a part of the foods we eat each day. Right down to our
chocoloate chips
!
Why am I taking the challenge?

Because as a Mother and consumer, I want to know the food I'm buying and preparing for my family is safe.
To join in on the challenge, visit
Real Food Media
. This is a rolling, 30 day challenge to educate and raise awareness about GMOs. Perfection is not needed (which is perfect for me!)